GEORGIO FARINA
AND the Impact of his life
Georgio Farina, born in Munich, was educated in music by his father from early childhood on. This education led to a school with emphasis on screen end arts. His 2 years older cousin exposed him to another kind of music when he was ten years old.
His parents thought they had lost their son to the "wild side" of music. It was a "unholy" birthday present with the un-German title "Best of Cream".
Georgio Farina, geboren in München, wurde von seinem Vater bereits in früher Kindheit zur Musikalität erzogen. Eine Erziehung, die in Konsequenz später auf einer Schule mit Schwerpunkt auf bildende Künste weitergeführt wurde. Dass es neben der klassischen Musik auch noch eine andere Richtung gab, die Spaß machen konnte, erfuhr G.F. von seinem 2 Jahre älteren Cousin. Die Eltern mussten erleben, dass sie mit einer einzigen LP ihren Sohn an die "Wild Side" der Musik verloren. Es war ein ¨unseliges¨ Geburtstags-Geschenk des Cousins, mit dem undeutschen Titel, ¨Best of Cream¨.
For Georgio Farina new worlds opened up.

For G.F. new worlds opened. After attending his first Led Zeppelin concert, he got the bug and as a result a school rock band was formed. With the hair, also grew the repertoire and G.F. began to compose his own music.

In time, his father accepted the change in music style, also inspired the new compositions and financed his first organ. It was a Philicorda. There was no money for a Hammond organ B3.

The following years were wildly unhealthy and shaped by the principle of learning by experience. Important experiences in the different styles of music, and working with different bands, made G.F. the artist he is today.
Nach dem ersten Besuch eines Rockkonzerts mit Led Zeppelin, war der Virus endgültig übertragen und in logischer Folge daraus, wurde eine Schüler-Rockband gegründet. Mit den Haaren wuchs das Repertoire und Georgio Farina entdeckte die Lust am selber komponieren. Der Vater akzeptierte mittlerweile den Seitenwechsel des Sohnes von der E- zur U-Musik.

Er instruierte und inspirierte beim Komponieren sogar mit und finanzierte und organisierte die erste Orgel. Es wurde eine Philicorda. Die finanzielle Situation entsprach nun mal nicht der ersehnten Hammond Orgel B3. Die folgenden Jahre waren - kurz gesagt – wild, ungesund und geprägt vom Prinzip, learning by doing.

Wichtige Erfahrungen in den unterschiedlichsten Stilrichtungen der Rockmusik und die enge Zusammenarbeit mit den unterschiedlichsten Musikern und Bands formten Georgio Farina zu dem Künstler, der er heute ist.
SOME BANDS G.F. PLAYED WITH ALONG THE WAY

Einige Stationen waren unter anderem nachfolgende Bands wie:

Eruption, the jazz-rock formation Children of Joy, Amon Düül 2, The Well, Defroster, Affair, the singer Guillermo Marchena and he also did a lot of studio work. At the same time, he worked with bigger artists like Curt Cress, the drummer for Klaus Doldinger's Passport, and later Snowball.

Because G.F. wanted to learn everything about the music business, he worked with UFA/Ariola, which is now Sony/BMG. Music at that time was his passion but was only a hobby.
Eruption, die Jazzrockformation Children of Joy, Amon Düül 2, The Well, Defroster und Affair mit dem Sänger Guillermo Marchena und Studioarbeit unter anderem mit Größen wie Curt Cress, dem damaligen Schlagzeuger der Formation von Klaus Doldingers Passport, bzw. Snowball.

Weil Georgio Farina wirklich alles über das Musikbusiness erfahren wollte arbeitete er nebenbei bei der damaligen UFA-Ariola die heutige Sony / BMG. Eine Erfahrung, von der er ausdrücklich betont, dass sie nicht für den Entschluss verantwortlich war, Musik in den nächsten Jahren zwar unverändert intensiv, doch nur noch als Hobby zu betreiben.
WE HELP.

Wir helfen. Vor Ort.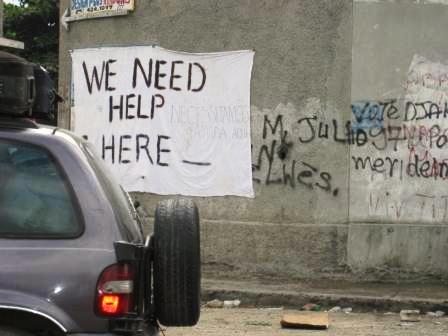 At the age of 40, G.F. wanted to enjoy life completely, so he moved to the Caribbean, to the beautiful island of Hispaniola, which became his new home. Hispaniola is an imperfect paradise, and required a lot of adjustments.

G.F. had a lot of time to think about life and how those living in Hispaniola do so on $2.50 a day or less. His priorities were changing, resulting in a project which has been developing over many years.
Mit 40 Jahren sieht er den Sinn des Lebens nur noch darin, Es zu genießen. Und weil er alles in seinem Leben möglichst konsequent zu tun pflegt, wählt er auch die Karibik, bzw. die wunderschöne Insel Hispaniola, als neuen Lebensraum. Ein Paradies mit vielen Fehlern, wie er sehr schnell lernen muss.

Er hat viel Zeit über sich und die Dinge des Lebens nachzudenken, hier in der Dritten Welt, in der das Überleben für die Einheimischen oft von (nicht) (vorhandenen) 2,50 $ abhängt. Seine Prioritäten verschieben sich. Es reift und gedeiht ein Projekt, welches er als Idee bereits seit langen Jahren mit sich herumträgt.
THE GEORGIO FARINA LIFELINE PROJECT.

G.F wants to use music to reach the hearts and wallets of people on this planet, in order to support village schools and small clinics. He presented the idea to friends and colleagues in Europe, and they spontaneously joined the cause. Many have volunteered their time to support this project: Musicians, writers, graphic designers, sound/light engineers, stage builders and camera men.

The G.F. LifeLine Project begins to live.

G.F. looks forward to seeing you again in one of his music shows with international artists and greets you with wisdom from Erich Kaestner:
Nothing good exists
unless you do it!

ERICH KÄSTNER

Es ist seine Musik, mit der er die Herzen und die Geldbeutel wohlhabender Menschen auf diesem Planeten erreichen will, um mit einem Teil der erwirtschafteten Gewinne Dorfschulen und Kleinkliniken in seiner Wahlheimat zu unterstützen. Kaum hat er die Idee einigen Freunden und Kollegen in Europa vorgestellt, geben diese spontan ihre Solidarität zu erkennen.
Durch unterschiedliche, teilweise unbezahlte, Leistungen und Engagements unterstützen sie sein Projekt. Musiker, Texter, Grafiker, Toningenieure, Lichttechniker, Bühnenbauer und Kameraleute.

Das Georgio Farina LifeLine Project beginnt zu leben.

Georgio Farina freut sich auf ein Wiedersehen in einer seiner Musik-Shows mit internationalen Künstlern und grüßt mit der Weisheit Erich Kästners:
Es gibt nichts Gutes,
es sei denn, man tut Es!

ERICH KÄSTNER

MERCH
Our SHOP is coming soon
HELP US SUPPORT OUR MISSION.